We would like to take a look back at our unforgettable 30th anniversary. From a warm welcome aperitif to inspiring speeches, delicious food and exciting games, the day was full of memorable moments.
The day started with an aperitif on Tuesday afternoon, which got the guests in the mood for the evening. Afterwards, Urs Nacht, partner at Glue Software Engineering, gave the anniversary speech. He looked back with us on the past 30 years and reminded us of the highlights and milestones we have achieved. It was interesting to see how far we have come and how much we have achieved in this time.

The speech was followed by an impressive performance by Benedikt Meyer, historian and cabaret artist. With his knowledge and humour, he made us laugh and marvel. He shared interesting facts and anecdotes that will stay with us for a long time.




In the evening we enjoyed a delicious barbecue and dessert buffet on the roof terrace. This was accompanied by a cool glass of home-brewed IPA beer from one of our anniversary workshops. It was a special experience to brew our own beer and taste it together. It tasted great and we were proud of our result.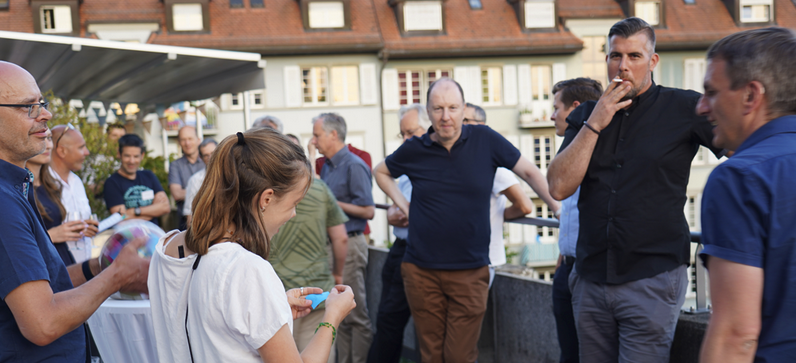 For the game enthusiasts, there were numerous large-scale games in which we competed against our guests. The Jenga tournament, in which we built a huge tower, was particularly exciting. In addition, the saxophonist Dominik Zenhäusern treated us to his musical performance, which created a relaxed and pleasant atmosphere and invited us to linger and enjoy.




It was a great pleasure for us to organise this event and to celebrate together with our friends, customers and partners. We look forward to many more years of successful cooperation and shared experiences.