We were one of the first solution providers to implement the connection to the central data hub for incident information of public transport in Switzerland for PostAuto, VVL and BERNMOBIL. The new standards VDV 736 and V580 were integrated into our existing solutions for the collection and publication of incident information.


Reading time 3'
Consistency and consistency in passenger information - as passengers expect today from transport transport associations and companies - has been recognised as one of the most important quality features of passenger transport in public transport.

Especially in case of operational changes and in disruption situations, the workflows and information flows between real-time communication and information platforms need to be coordinated.
Weak data exchange between TUs due to lack of public transport IT standard
The exchange of incident information between the more than 600 Swiss transport companies has not taken place at all, or at least not fully automatically. Many TUs use their own IT system landscapes with individual solutions that implement different data interfaces. Even if TUs record their disruption information completely, it often cannot be exchanged easily because clear standards are still lacking in some cases as to how lines, stops, tracks or platforms are precisely marked so that all systems can recognize without error where a certain disruption information must be displayed. In addition, disruption information in Switzerland must ideally always be available in all national languages, which presents an additional difficulty.
No uniform display of disruption messages
In order for passenger information to be understood by passengers, it is important that this information always has the same structure if possible and uses the same expressions. Up to now, it was usually the case that each TU had its own wording and disruption information was therefore always formulated slightly differently depending on the sender of the message.
Problems with the information space for fault messages
One of the biggest challenges when sending disruption messages is the correct "localisation" of the message, i.e. for example, which line, which route, which journey or which stop is affected by a disruption. In the context of a TU, it is often clear what is meant when it says, for example, that delays are to be expected on line 3 due to an accident. In the context of the whole of Switzerland, however, this is no longer clear, which is why it is crucial that the so-called "information space" of a message can be defined in a standardised way in the metadata of the disruption message.
Introduction of the public transport standards VDV 736 and V580 in Switzerland
The Federal Office of Transport (FOT) has become aware of this problem. The need for consistent and coherent passenger information has been recognised as one of the most important quality features for Swiss public transport. The focus is on the implementation of a standardisation of event and fault messages using the 736 and V580 standardisations.
Contents of the V580 standardisation
1. Clear definition of the structure of messages and scenarios: Specific data such as title, reason, effect, recommendation, note and URL are stored uniformly in accordance with the V580 standard.
2. Text lengths: To ensure that passenger information can be completely displayed on the display media, it is recorded in three different text lengths. All text modules are therefore defined in three text lengths.
3. Multilingualism: All messages must be available in German, French, Italian and English. Therefore all text modules are defined in these four languages.
Contents of the VDV 736 standardization
1. Exchange of messages: The fault information is exchanged as standardized XML messages .
2. As with VDV 454 and VDV 453 in real-time processing, VDV 736 also works with a bidirectional abover procedure. This procedure guarantees that the data is transmitted in a timely manner, but still in a way that conserves resources.
3. Information space: in order to be able to locate disruption messages correctly, affected lines, stations, journeys are distinguished in a standardized way in the VDV 736. The perspective also determines where a message is to be displayed (at the stop/stop-based, in the timetable information or in the passenger information in the vehicle).
4. Lifecycle of messages: Messages go through a defined lifecycle, can evolve in successive versions during the development of a disruption situation, and are usually concluded with a final message at the end. Fixed validity and publication periods guarantee that no message is "forgotten" and remains longer than necessary.
Advantages for TUs when using the V580 and VDV 736
The standardized data exchange, which is based on the implementation of the V580 and VDV 736 standards, has many advantages: For one, data can be processed faster, multilingualism is ensured, message texts are displayed grammatically correct, complete and readable on the display media. All these points lead to the improvement of the main goal of the Federal Office of Transport: the optimization of passenger information.
Glue IT solutions using V580 and VDV 736
The two standardizations V580 and VDV 736 are implemented in the Glue public transport solutions Incident Manager and Case Manager respectively.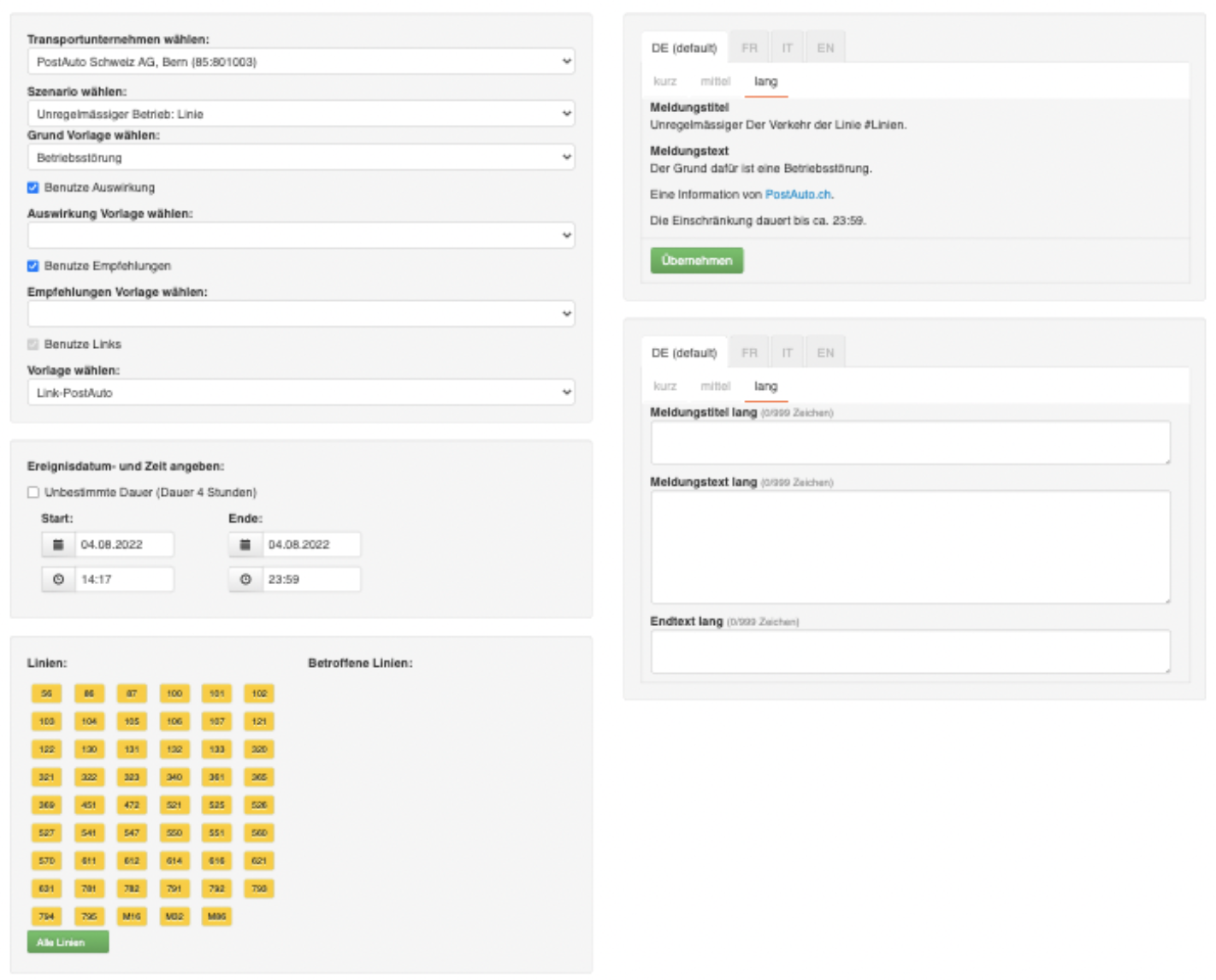 Note: In contrast to the Incident Manager , more than just passenger information can be managed in the Case Manager. The Case Manager additionally enables the recording of entire incidents, personnel management and internal communication.
Customers who have already successfully implemented the V580 and VDV 736 standard:
Since the beginning of the year (2022), Postauto Switzerland and Bernmobil have been the first Swiss companies to connect their fault reporting to the SBB using the V580 and VDV 736 IT standard.


Contact us today
For further information and interest, please contact Roland Loser, member of the management of Glue Software Engineering AG and Head of Mobile Applications via roland.loser@glue.ch.
Further interesting links about VDV 736 and V580
- Factsheet VDV 736 / V580 (german)

- Customer information V580 – FIScommun: Regulation on standards for customer information in public transport

- PDF V580 - FIScommun: Regulation about standards of customer information in public transport


- Association of public transport


- VDV-Schrift 736-2: «Handling of incident reports (UmS) – Standardized exchange of event and incident reports with the European standard CEN/TS 15531-5 'SIRI'».


- Association of German Transport Companies (VDV)