In late March, the GovTech Hackathon was held in Bern by the Federal Office of Informatics (BIT), where developers, experts, and interested parties came together for two days to develop the digital foundation in e-government. We, Glue Software Engineering AG, were also among the participants and actively contributed.
For over 25 years, Glue Software Engineering and
basis06
have been implementing IT solutions for various federal offices that make an important contribution to the implementation of Switzerland's e-government strategy. When we heard about the
GovTech Hackathon
, it was a clear decision for us to participate.
Christian Gutknecht works as a Solution Engineer at basis06, where he oversees various data projects in the banking and judicial sectors, as well as the online political database
POLITmonitor
. With his background in information science and business informatics, as well as his flair for open data, he was the ideal candidate for this event.
Here is the report from Christian Gutknecht:
"Electronic interfaces of the administration"
The 2-day
GovTech Hackathon
was organized by the Federal Chancellery with the support of
opendata.ch
and took place in the premises of BIT in Oberzollikofen. The interest was great. One month before the actual hackathon, you were already put on a waiting list when registering. Ultimately, there were around 130 participants.
Different challenges could be submitted in advance. The main topic of the GovTech Hackathon was "Electronic interfaces of the administration". Accordingly, the
24 challenges
were varied, from AI chatbots at a compensation fund to dashboards of charging stations for electric cars to an app for missing persons search – everything was included: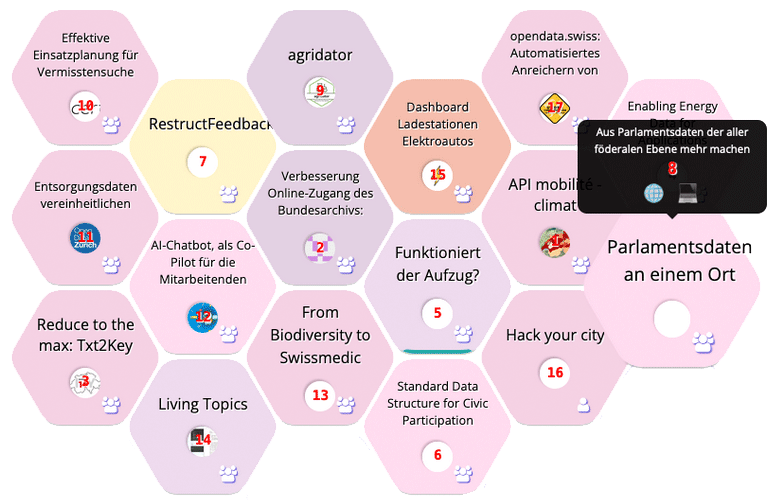 Hackathon process
1. Presentation of the challenges
At the beginning of the hackathon, all 24 challenges were presented in a 2-minute interval. After this presentation, the participants divided into the challenges according to their interests.

2. Selection of the challenge "Parliamentary data in one place"
Currently, machine access to this data is very heterogeneous and associated with considerable hurdles. Therefore, the challenge was to improve this situation fundamentally.



3. Group formation process
Fortunately, my challenge met with interest, so I was able to search for a place in the reserved floor of the BIT with co-working spaces together with Michèle Spichtig, Pirmin Meyer, Salim Brüggemann, Selina Frey, Stefanie Taepke.

Then began the phase of getting to know each other and exploring how to approach the challenge. This was exciting but also difficult at the same time. Because unlike in everyday business life, there is initially no clear understanding of roles, no knowledge of the interests, preferences, or abilities of others in the group. For me as a challenge owner, dealing with the initial information asymmetry was particularly challenging. How can I bring my prior knowledge and ideas about the solution to the challenge into the group so that they can work with it, without stifling the creative potential that arises from the interests and abilities of the participants and the group dynamics from the very beginning?

4. Procedure
An initial idea of creating a meta-API for parliamentary data with tyk.io was discarded due to the lack of many APIs that could even be combined.



Due to the composition and existing skills that were less in the coding area, the group then chose a more analytical approach. Thus, a collaborative spreadsheet was created in which the accessibility of parliamentary data from cantons and larger cities was researched and evaluated. The evaluation was based on the 5-star model, which Tim Berners suggested for Linked Open Data.

5. Result: Overview of accessibility of parliamentary data
As can be seen from the graphic below, as a result of the GovTech Hackathon, we created a first public overview of the accessibility of parliamentary data from cantons and larger cities:



After the hackathon, the table was visualized using the Tableau Business Intelligence Tool to gain a better understanding of the data:



-> Access interactive map on Tableau Public

So far, there is no parliament that provides the data as Linked Open Data (LOD). With lindas.admin.ch & visualize.admin.ch there are promising services for authorities. The data of the cantonal and national councils, as well as the parliaments of the canton and city of Zurich, are easily accessible via REST APIs and there are occasionally structured data in the form of CSV/Excel. However, mostly the information is in HTML format.

This overview can now serve as a starting point for working with parliamentary services and OGD experts to explore how parliamentary data can be made more accessible. It will probably be years before all cantonal parliamentary data is available as structured OGD*. Therefore, a faster solution through third parties, as envisaged with Open POLITmonitor, makes perfect sense.

*Open Government Data

8. My conclusion
Implicit in a hackathon is the expectation that a team will achieve something demonstrable within a short period of time. However, to achieve this optimally, there are several factors (realistic challenge, appropriate topic and interest, team skillset, trust, communication, shared understanding, and tooling) that must come together happily. What is already difficult in regular business life becomes even more challenging at a hackathon with less time and more unknown new variables.

For me, therefore, the path to the goal and the exchange were much more important than the short-term result achieved. I am particularly pleased that there are currently further efforts to establish a working group at Opendata.ch (contact: Florin Hasler: florin.hasler@opendata.ch) to pursue this issue further.

The issue of (open) parliamentary data has been on my mind for a long time and will continue, so for me, the GovTech Hackathon was a great opportunity to take a short section of this path with others and exchange ideas. The format brings together motivated people with a lot of know-how and openness for exchange.

The discussions we had in the team (How do DCAT work on data portals? What is better: Linked Data or REST APIs? How much transparency is good for the political processes?) will remain a good memory for me. Also, the insight into how others work or which tools or frameworks they use is very valuable in this format. Similarly, based on the many challenges, you can see what is currently driving others and what solutions have been found, or what does not work so well.

We hope you found Christian Gutknecht's experience report exciting and that it motivated some of you to participate in a hackathon in the future.
Further Links